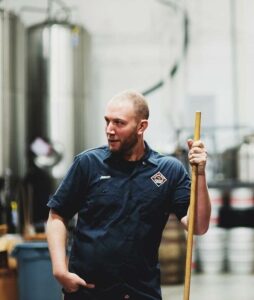 Jason Goldstein
Operations Manager, Founder
Jason is the clean up hitter for Icarus.  His favorite days involve lacing up his brewing boots and getting to work on the brewdeck.
Jason has been brewing professionally since he was 19 years old. While he was in college studying Food Science at the Ohio State University he took an internship he immediately fell head over heels for with a local brewery, not realizing that he had fallen into a career.  After college he continued his studies in England through Brewlab at the University of Sunderland, obtaining certifications in Cask Ale and British Brewing Technology.
Jason has a hard time picking his favorite Icarus beer but grab him a slow pour lager and you will immediately see him brighten up.  In 2006, Jason had the distinct honor of being named Time Magazine's Person of the Year!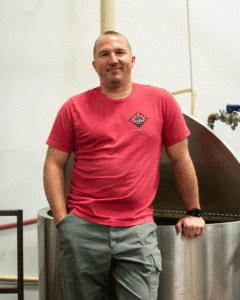 Dave Menges
Head Brewer
You probably know Dave from his Brewers Series beers, Hoppy Little Accidents, Little Grey One, and his Homebrew Award-Winning brew – King Arthur's Steed but around here we all know him as Big Dave! From mashing to managing our spent grain donations, Big Dave does it all for the Brew Crew!
While Dave has been with Icarus for over five years, he has been brewing with us for four and that barely scrapes the surface of Dave's brewing experience. Years before we knew him as "Big Dave", Dave was honing his skills and mastering his process as a homebrewer! 
Although he loves a good mixed fermentation beer, Dave's favorite Icarus brew is Let's Be Franc! Back in the old days, Dave may or may not have had his Honda Civic Wagonvan airborne. We suggest you ask him about it!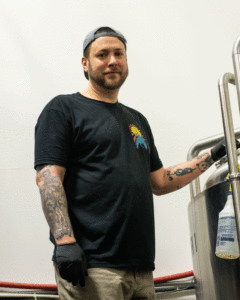 Nick Palazzo
Lead Brewer
Dr. Nick, Nicarus, The Seltz Czar, a vital member of our Brew Crew! From monitoring inventory to writing recipes, dialing in carb levels and spearheading our new Seltzer Program (even though he's a lager man), Nick has his hands on almost every part of the brewing process! 
Nick started with us in the Tasting Room all the way back in 2017 and used his homebrewing experience to work his way onto the Brew Crew a little over two years ago. Since coming on he's responsible for Brewers Series beers like Big Smile, Das Beste and Raspberry Rickie and Hey! Take it Easy. He also has a large influence on our lagers including our latest Japanese Style Rice Lager, Liquid Swords!   
Regardless of the soft spot he has for a cold crispy boi, his favorite Icarus beer is a toss-up between Let's Be Franc and a classic Icarus IPA, Not A Schooner.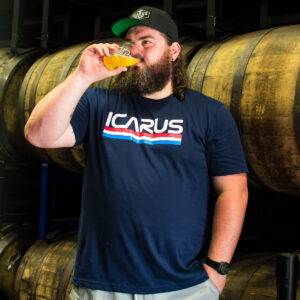 Matt Becker
Brand and Marketing Manager
He's the guy you see walking around Icarus events, camera in hand capturing all the fun – Matt handles everything from Social Media to merch designs, website maintenance and even some beer labels!
Matt has been with us for just over a year but has a long history of telling brand stories. He started taking pictures of different products over 7 years ago and never stopped.
Matt is the last person to turn down a good craft beer, but his favorite Icarus beer is Hey! Take it Easy with Liquid Swords as a close second. Outside of craft beer and photography, Matt loves his early 2000's "underappreciated" cars. If you see a crispy silver Ford Ranger outside the Tasting Room, that's the best sign that Matt is here.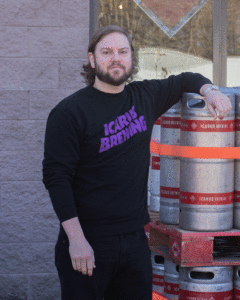 Shane Gertner
Director of Sales & Marketing
Creative genius, music rolodex and antique expert, Shane is responsible for much of the distribution of Icarus beer.
Starting with us way back in November of 2017, Shane has been with us since the Tasting Room was the only place you could get Icarus brews. Over the years he's worked in different roles but he now manages our external marketing strategy. 
As an almost OG Icarus team member, Shane's favorite beer is a deep cut – Yukon Cornelius Coffee Porter. There's a longer story there, but we'll let him tell you that one. When Shane's not at work (which is almost never) he's probably visiting a flea market, estate sale or thrift store in the hopes of turning trash into treasure!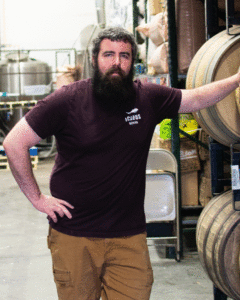 Kevin Curtis
Packaging Manager
Good ol' Safety Kevin. Along with making sure Icarus beers get into their cans, he manages our entire Barrel Aging Program. From monitoring fermentation to coming up with new adjuncts and blend combinations, Kevin is always making sure your bottles and cans are full! 
Since the early days of Icarus, Kevin has been working with Barrel Aged beers and making his own creations both at home and in the brewery. He started with us back in 2016 in the Tasting Room and then started in his full-time role as Packaging Manager in 2020. 
As our Barrel Aging Master, it comes as no surprise that Kevin's favorite Icarus beer to kick back with is Shadows Forming: Vanilla. Even in his spare time, he loves to collect bottles for his cellar. When he last counted back in July of 2022, he had over 1,400!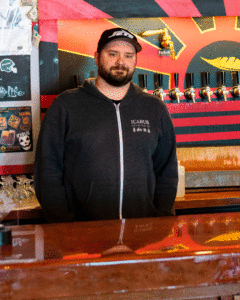 Matt Barnish
Tasting Room Manager
Keeping the Tasting Room trains running, your beer glasses full and making sure that every day is the Icarus Tasting Room is as great as the last, Matt runs virtually all day-to-day aspects of our Tasting Room and special events.
Matt started with us over three years ago and has been managing teams and businesses for over 12 years. He also has 20 years of experience drinking beer, so he knows the product just as well as he knows people.
Matt's favorite Icarus beer has been extinct, but he dreams of the days he'll be able to drink a Fruited and Flying again! Matt is a movie aficionado and seemingly has a soft-spot for the extinct because he's watched Jurassic Park over 100 times… the ending never changes.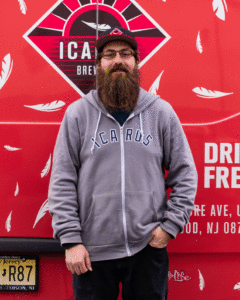 Mike Jesse
Distribution Manager
You want Icarus beers but you can't make it to the Tasting Room? Mike Jesse is your guy! Mike manages our deliveries and ensures those Icarus brews get to your favorite bar, restaurant or liquor stores on time and ice cold! 
Mike has been with Icarus for over 4 years, knows all the ins and outs of the Icarus distro network, and can name you essentially every Icarus account serving Icarus at any given time.
Mike's favorite Icarus beer is a staple lager in our portfolio – Ichi for the Michi. While he loves Icarus and being the best Forklift operator this side of the globe, what Mike really loves is music. He has tons of stories about his favorite concerts and is always ready to give you an incredible music suggestion that you've never heard before.