Find your favorite Icarus beers across the state of New Jersey! Click on our interactive map to locate the retail locations where our cans are sold, as well as the bars and restaurants in your area that have us on draft. Subject to availability.
Shop Our Beers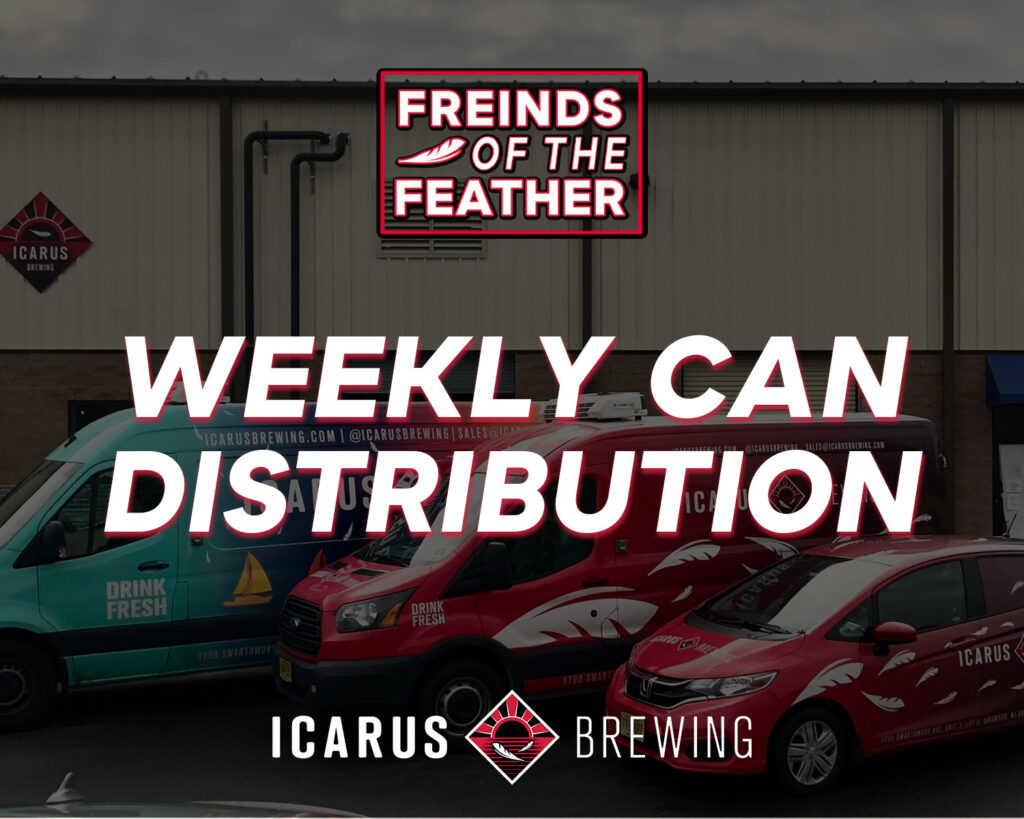 Icarus Can Distribution for MONDAY 9/25, TUESDAY 9/26, WEDNESDAY 9/27, and THURSDAY 9/28.
This week we are distributing Power Juicer: Oat Fluffed, Power Shaker (Orange Cream Pop): Oat Fluffed, and Triples Makes it Safe.
Deliveries take place throughout the day listed for each location.
𝙒𝙚 𝙨𝙩𝙧𝙤𝙣𝙜𝙡𝙮 𝙧𝙚𝙘𝙤𝙢𝙢𝙚𝙣𝙙 𝙘𝙖𝙡𝙡𝙞𝙣𝙜 𝙖𝙝𝙚𝙖𝙙 𝙩𝙤 𝙨𝙚𝙚 𝙞𝙛 𝙖 𝙨𝙩𝙤𝙧𝙚 𝙞𝙨 𝙨𝙘𝙝𝙚𝙙𝙪𝙡𝙚𝙙 𝙩𝙤 𝙧𝙚𝙘𝙚𝙞𝙫𝙚 𝙩𝙝𝙚 𝙨𝙥𝙚𝙘𝙞𝙛𝙞𝙘 𝙗𝙚𝙚𝙧 𝙮𝙤𝙪'𝙧𝙚 𝙡𝙤𝙤𝙠𝙞𝙣𝙜 𝙛𝙤𝙧 𝙖𝙣𝙙 𝙞𝙩 𝙞𝙨 𝙖𝙫𝙖𝙞𝙡𝙖𝙗𝙡𝙚 𝙛𝙤𝙧 𝙥𝙪𝙧𝙘𝙝𝙖𝙨𝙚.
𝘼𝙩𝙡𝙖𝙣𝙩𝙞𝙘 𝘾𝙤𝙪𝙣𝙩𝙮:
Joe Canal's Discount Liquor – Egg Harbor Township 𝗧𝘂𝗲𝘀𝗱𝗮𝘆
Hardy Discount Liquors 𝗧𝘂𝗲𝘀𝗱𝗮𝘆
Passion Vines EHT 𝗧𝘂𝗲𝘀𝗱𝗮𝘆
Passion Vines Somers Point 𝗧𝘂𝗲𝘀𝗱𝗮𝘆
White Horse Liquors 𝗧𝘂𝗲𝘀𝗱𝗮𝘆
𝘽𝙚𝙧𝙜𝙚𝙣 𝘾𝙤𝙪𝙣𝙩𝙮:
Bottle King (Glen Rock, Ramsey, Dumont, Hillsdale) 𝗧𝗵𝘂𝗿𝘀𝗱𝗮𝘆
ShopRite Lyndhurst 𝗧𝗵𝘂𝗿𝘀𝗱𝗮𝘆
𝘽𝙪𝙧𝙡𝙞𝙣𝙜𝙩𝙤𝙣 𝘾𝙤𝙪𝙣𝙩𝙮:
Cork n Bottle 𝗧𝘂𝗲𝘀𝗱𝗮𝘆
Classic Wine & Liquor 𝗧𝘂𝗲𝘀𝗱𝗮𝘆
Canals Bottle Shop 𝗧𝘂𝗲𝘀𝗱𝗮𝘆
Liquor Barn 𝗧𝘂𝗲𝘀𝗱𝗮𝘆
Maro Brothers 𝗧𝘂𝗲𝘀𝗱𝗮𝘆
Otts 𝗧𝘂𝗲𝘀𝗱𝗮𝘆
WineWorks 𝗧𝘂𝗲𝘀𝗱𝗮𝘆
JSW Wine + Spirits 𝗧𝘂𝗲𝘀𝗱𝗮𝘆
𝘾𝙖𝙢𝙙𝙚𝙣 𝘾𝙤𝙪𝙣𝙩𝙮:
Canals of Berlin 𝗧𝘂𝗲𝘀𝗱𝗮𝘆
Cooks Liquors 𝗧𝘂𝗲𝘀𝗱𝗮𝘆
Cork n Bottle 𝗧𝘂𝗲𝘀𝗱𝗮𝘆
Warwik 𝗧𝘂𝗲𝘀𝗱𝗮𝘆
𝙀𝙨𝙨𝙚𝙭 𝘾𝙤𝙪𝙣𝙩𝙮:
ShopRite Caldwell 𝗧𝗵𝘂𝗿𝘀𝗱𝗮𝘆
Bottle King Glen Ridge 𝗧𝗵𝘂𝗿𝘀𝗱𝗮𝘆
𝙂𝙡𝙤𝙪𝙘𝙚𝙨𝙩𝙚𝙧 𝘾𝙤𝙪𝙣𝙩𝙮:
Bobkat Liquors 𝗧𝘂𝗲𝘀𝗱𝗮𝘆
Clayton Liquors 𝗧𝘂𝗲𝘀𝗱𝗮𝘆
Williamstown Buy Rite 𝗧𝘂𝗲𝘀𝗱𝗮𝘆
Five O'Clock Wine & Spirits 𝗧𝘂𝗲𝘀𝗱𝗮𝘆
Super Buy Rite West Deptford 𝗧𝘂𝗲𝘀𝗱𝗮𝘆
𝙃𝙪𝙙𝙨𝙤𝙣 𝘾𝙤𝙪𝙣𝙩𝙮:
Hoboken Vine 𝗪𝗲𝗱𝗻𝗲𝘀𝗱𝗮𝘆
Jersey Wine & Spirits 𝗪𝗲𝗱𝗻𝗲𝘀𝗱𝗮𝘆
𝙈𝙚𝙧𝙘𝙚𝙧 𝘾𝙤𝙪𝙣𝙩𝙮:
Buyrite Hamilton & Hopewell 𝗪𝗲𝗱𝗻𝗲𝘀𝗱𝗮𝘆
Home Wines Pennington 𝗪𝗲𝗱𝗻𝗲𝘀𝗱𝗮𝘆
Joe Canal's Discount Liquors of Lawrenceville, NJ 𝗪𝗲𝗱𝗻𝗲𝘀𝗱𝗮𝘆
Libby's Liquors 𝗪𝗲𝗱𝗻𝗲𝘀𝗱𝗮𝘆
Bottle King East Windsor 𝗪𝗲𝗱𝗻𝗲𝘀𝗱𝗮𝘆
Super Saver Robinsville 𝗪𝗲𝗱𝗻𝗲𝘀𝗱𝗮𝘆
Yardville Buy Rite 𝗪𝗲𝗱𝗻𝗲𝘀𝗱𝗮𝘆
𝙈𝙞𝙙𝙙𝙡𝙚𝙨𝙚𝙭 𝘾𝙤𝙪𝙣𝙩𝙮:
Adelphia Wines 𝗪𝗲𝗱𝗻𝗲𝘀𝗱𝗮𝘆
NJ Wine Gallery Of Milltown 𝗪𝗲𝗱𝗻𝗲𝘀𝗱𝗮𝘆
BuyRite Monroe 𝗪𝗲𝗱𝗻𝗲𝘀𝗱𝗮𝘆
Cranbury BuyRite 𝗪𝗲𝗱𝗻𝗲𝘀𝗱𝗮𝘆
JWG Fine Wine & Spirits Woodbridge 𝗪𝗲𝗱𝗻𝗲𝘀𝗱𝗮𝘆
Joe Canals Discout Liquors Woodbridge 𝗪𝗲𝗱𝗻𝗲𝘀𝗱𝗮𝘆
𝙈𝙤𝙣𝙢𝙤𝙪𝙩𝙝 𝘾𝙤𝙪𝙣𝙩𝙮
71 Central 𝗠𝗼𝗻𝗱𝗮𝘆
Spirit Of 76 𝗠𝗼𝗻𝗱𝗮𝘆
Wine Outlet (Manasquan, Wall) 𝗠𝗼𝗻𝗱𝗮𝘆
Wanamassa Liquors 𝗠𝗼𝗻𝗱𝗮𝘆
JWG Wine & Spirits Manalapan 𝗪𝗲𝗱𝗻𝗲𝘀𝗱𝗮𝘆
Max's Beer, Wine & Liquor Neptune 𝗪𝗲𝗱𝗻𝗲𝘀𝗱𝗮𝘆
Max's Beer, Wine & Liquor Raintree 𝗪𝗲𝗱𝗻𝗲𝘀𝗱𝗮𝘆
Max's Beer, Wine & Liquor Freehold Boro 𝗪𝗲𝗱𝗻𝗲𝘀𝗱𝗮𝘆
Max's Beer, Wine & Liquor Freehold Township 𝗪𝗲𝗱𝗻𝗲𝘀𝗱𝗮𝘆
ShopRite Freehold 𝗪𝗲𝗱𝗻𝗲𝘀𝗱𝗮𝘆
Bottles By Sickles 𝗧𝗵𝘂𝗿𝘀𝗱𝗮𝘆
NJ Wine Gallery Of Cliffwood 𝗧𝗵𝘂𝗿𝘀𝗱𝗮𝘆
Circus Wines Middletown 𝗧𝗵𝘂𝗿𝘀𝗱𝗮𝘆
Bottle King Middletown 𝗧𝗵𝘂𝗿𝘀𝗱𝗮𝘆
Circus Wines RB 𝗧𝗵𝘂𝗿𝘀𝗱𝗮𝘆
Circus Wines Lincroft 𝗧𝗵𝘂𝗿𝘀𝗱𝗮𝘆
Circus Wines Sea Girt 𝗧𝗵𝘂𝗿𝘀𝗱𝗮𝘆
Court Liquors 𝗧𝗵𝘂𝗿𝘀𝗱𝗮𝘆
Farmingdale Liquors 𝗧𝗵𝘂𝗿𝘀𝗱𝗮𝘆
Gallo's Wine Center 𝗧𝗵𝘂𝗿𝘀𝗱𝗮𝘆
Holmdel Buy-Rite 𝗧𝗵𝘂𝗿𝘀𝗱𝗮𝘆
ShopRite Middletown 𝗧𝗵𝘂𝗿𝘀𝗱𝗮𝘆
Super BuyRite Neptune 𝗧𝗵𝘂𝗿𝘀𝗱𝗮𝘆
Three Sixty Two Broad Street 𝗧𝗵𝘂𝗿𝘀𝗱𝗮𝘆
Wine Academy Hazlet 𝗧𝗵𝘂𝗿𝘀𝗱𝗮𝘆
Wine Outlet Holmdel 𝗧𝗵𝘂𝗿𝘀𝗱𝗮𝘆
Ocean Wine & Spirits 𝗧𝗵𝘂𝗿𝘀𝗱𝗮𝘆
𝙈𝙤𝙧𝙧𝙞𝙨 𝘾𝙤𝙪𝙣𝙩𝙮:
Bottle King ( Morris Plains, Chatham, Ledgewood) 𝗧𝗵𝘂𝗿𝘀𝗱𝗮𝘆
Hanover Wine & Liquor 𝗧𝗵𝘂𝗿𝘀𝗱𝗮𝘆
Best Cellars 𝗧𝗵𝘂𝗿𝘀𝗱𝗮𝘆
Ceder Knolls Shoprite 𝗧𝗵𝘂𝗿𝘀𝗱𝗮𝘆
Garys Madison 𝗧𝗵𝘂𝗿𝘀𝗱𝗮𝘆
Liquor Outlet Wine Cellars 𝗧𝗵𝘂𝗿𝘀𝗱𝗮𝘆
ShopRite Chester 𝗧𝗵𝘂𝗿𝘀𝗱𝗮𝘆
𝙊𝙘𝙚𝙖𝙣 𝘾𝙤𝙪𝙣𝙩𝙮:
Gerards 𝗠𝗼𝗻𝗱𝗮𝘆
Jackson Wine + Spirits 𝗠𝗼𝗻𝗱𝗮𝘆
Joe Canals Brick 𝗠𝗼𝗻𝗱𝗮𝘆
Monaghan's 𝗠𝗼𝗻𝗱𝗮𝘆
NJ Wine Gallery 𝗠𝗼𝗻𝗱𝗮𝘆
Forbes Liquors 𝗠𝗼𝗻𝗱𝗮𝘆
Ridgeway Liquors 𝗠𝗼𝗻𝗱𝗮𝘆
The River Rock Liquor Shop 𝗠𝗼𝗻𝗱𝗮𝘆
Silverton Buy Rite 𝗠𝗼𝗻𝗱𝗮𝘆
Spirits Unlimited (Pt Beach, Fischer Blvd, Crossroads TR, Lakewood Rd TR, Xpress) 𝗠𝗼𝗻𝗱𝗮𝘆
Home Wines 𝗠𝗼𝗻𝗱𝗮𝘆
Wine Academy Lakewood 𝗠𝗼𝗻𝗱𝗮𝘆
Wine Centers Of NJ Jackson 𝗠𝗼𝗻𝗱𝗮𝘆
Wine Emporium 𝗠𝗼𝗻𝗱𝗮𝘆
Wine Outlet (Brick, Point) 𝗠𝗼𝗻𝗱𝗮𝘆
Wine Center Jackson 𝗠𝗼𝗻𝗱𝗮𝘆
Meyers Liquor Outlet 𝗧𝘂𝗲𝘀𝗱𝗮𝘆
Forked River Wine & Spirits 𝗧𝘂𝗲𝘀𝗱𝗮𝘆
Shell Liquors LBI 𝗧𝘂𝗲𝘀𝗱𝗮𝘆
Spirits (Berkeley, Beachwood, Forked River) 𝗧𝘂𝗲𝘀𝗱𝗮𝘆
𝙋𝙖𝙨𝙨𝙖𝙞𝙘 𝘾𝙤𝙪𝙣𝙩𝙮:
Garys Wayne 𝗧𝗵𝘂𝗿𝘀𝗱𝗮𝘆
ShopRite Little Falls 𝗧𝗵𝘂𝗿𝘀𝗱𝗮𝘆
𝙎𝙤𝙢𝙚𝙧𝙨𝙚𝙩 𝘾𝙤𝙪𝙣𝙩𝙮:
Bottle King Hillsborough 𝗧𝗵𝘂𝗿𝘀𝗱𝗮𝘆
Bottle Republic 𝗧𝗵𝘂𝗿𝘀𝗱𝗮𝘆
Wegman's Wine & Spirits Bridgewater 𝗧𝗵𝘂𝗿𝘀𝗱𝗮𝘆
Garys Bernardsville 𝗧𝗵𝘂𝗿𝘀𝗱𝗮𝘆
Liquor Barn Raritan 𝗧𝗵𝘂𝗿𝘀𝗱𝗮𝘆
NJ Wineseller Green Brook 𝗧𝗵𝘂𝗿𝘀𝗱𝗮𝘆
Petrocks 𝗧𝗵𝘂𝗿𝘀𝗱𝗮𝘆
Somerville Super Saver 𝗧𝗵𝘂𝗿𝘀𝗱𝗮𝘆
Spirit's Of The Valley 𝗧𝗵𝘂𝗿𝘀𝗱𝗮𝘆
𝙐𝙣𝙞𝙤𝙣 𝘾𝙤𝙪𝙣𝙩𝙮:
Buy Rite Union 𝗪𝗲𝗱𝗻𝗲𝘀𝗱𝗮𝘆
NJ Wine Seller Cranford 𝗪𝗲𝗱𝗻𝗲𝘀𝗱𝗮𝘆
Nosvino 𝗪𝗲𝗱𝗻𝗲𝘀𝗱𝗮𝘆
Wine Anthology 𝗪𝗲𝗱𝗻𝗲𝘀𝗱𝗮𝘆
Shoprite Liquors Westfield 𝗪𝗲𝗱𝗻𝗲𝘀𝗱𝗮𝘆
Vine Republic Mountainside 𝗪𝗲𝗱𝗻𝗲𝘀𝗱𝗮𝘆
Vine Republic Berkeley Heights 𝗪𝗲𝗱𝗻𝗲𝘀𝗱𝗮𝘆